Patient Referrals
To make a referral please call us at 214-618-4405, or have the patient contact us at 214-618-4405 or contact via email at Info@hypospadias.com. Hypospadias Specialty Center accepts most major commercial insurances.
Private Webinars
We can arrange an internet connection to allow surgeons to interact with us during the operation of a patient they refer to Hypospadias Specialty Center for care. The unedited video will then be sent to the referring surgeon after the procedure for future review. To refer a patient and schedule a private webinar please email us at Info@hypospadias.com. or reach out via the Contact page.
Visits to Hypospadias Specialty Center
We welcome visits by surgeons to observe our operations. A minimum of 12 weeks notice is recommended so that we can schedule the specific types of cases that interest the visitor. Visits can range from 1 day to several weeks depending on the needs of the surgeon. Please contact us at Info@hypospadias.com. for more information and to arrange a visit.
Surgical Videos
Visit our YouTube channel. Unedited videos and short tutorials are added on a regular basis.
AUA Hypospadias Course
We have discussed the latest evidence-based research and technical advancements in hypospadias repair at the American Urological Association annual meeting each year for many years. Please contact us for dates and times.
Personal Instruction
Our specialists are available to travel to your institution to offer private instruction upon request by surgeons who wish to have hands-on experience operating on their own patients. The host surgeon selects the cases and we will first demonstrate our technique and then involve the host as we coach. For more information please email us at Info@hypospadias.com.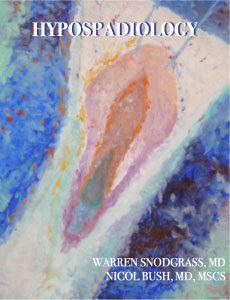 Hypospadiology is a surgical textbook which covers every aspect of hypospadias repair. Written by authors (Snodgrass and Bush) with extensive experience in primary and reoperative hypospadias surgery, it is a step-by-step photographic atlas of the most commonly used techniques, and reviews everything from preoperative evaluation, risk factors for complications, unusual variants, and pitfalls in hypospadias repair. All proceeds from this book go to our non-profit charity, Operation Happenis, whose goals are increasing public awareness of hypospadias, helping patients with proximal hypospadias or failed repairs, and funding postgraduate surgical education. Click for more info.
Table of Contents
Chapter 1 MILESTONES IN HYPOSPADIAS SURGERY
Chapter 2 PREOPERATIVE ASSESSMENT AND TREATMENT
Chapter 3 CONCEALED HYPOSPADIAS
Chapter 4 INTRAOPERATIVE EVALUATION AND MANAGEMENT
Chapter 5 VENTRAL PENILE CURVATURE
Chapter 6 DISTAL HYPOSPADIAS REPAIR
Chapter 7 PITFALLS IN DISTAL HYPOSPADIAS REPAIR
Chapter 8 PROXIMAL TIP HYPOSPADIAS REPAIR
Chapter 9 2-STAGE GRAFT PROXIMAL HYPOSPADIAS REPAIR
Chapter 10 1-STAGE GRAFT PROXIMAL HYPOSPADIAS REPAIR
Chapter 11 PREPUCIAL FLAP PROXIMAL HYPOSPADIAS REPAIR
Chapter 12 2-STAGE BYARS FLAP PROXIMAL HYPOSPADIAS REPAIR
Chapter 13 FLAPS VERSUS GRAFTS
Chapter 14 NON-URETHROPLASTY HYPOSPADIAS SURGERY
Chapter 15 POSTOPERATIVE MANAGEMENT
Chapter 16 OUTCOMES ASSESSMENT
Chapter 17 COMPLICATIONS
Chapter 18 BXO
Chapter 19 HYPOSPADIAS REOPERATIONS
Chapter 20 ADULT OUTCOMES AFTER CHILDHOOD REPAIR
Chapter 21 HYPOSPADIAS REPAIR IN ADULTS
Chapter 22 TEACHING HYPOSPADIAS SURGERY
Chapter 23 PROGRESS IN HYPOSPADIAS MANAGEMENT
Proceeds support our 501(c)3 Charity to Raise Awareness

Hypospadiology summarizes the best evidence for preoperative, intraoperative, and postoperative assessment and management of hypospadias. It presents modern surgical algorithms for both primary and reparative repairs, and then describes in detail - with diagrams and color photographs - today's commonly used techniques. Emphasis is given to key technical steps to help surgeons avoid complications. The textbook is designed for both trainees and experienced hypospadias surgeons of all specialties.
Among the unique chapters in this hypospadias textbook are Pitfalls in Distal Repair, Flaps versus Grafts, Adult Outcomes after Childhood Repair, Hypospadias Repair in Adults, and Teaching Hypospadias Surgery. The colorful history of hypospadiology is woven throughout to give readers a greater understanding of how the subspecialty evolved.
The authors are internationally recognized experts in hypospadias repair. Proceeds from this textbook will support Operation Happenis, a non-profit devoted to increasing awareness of this common birth condition.
Acknowledgements
Dr. Snodgrass and Dr. Bush wish to thank Dr. Pierre Mouriquand for providing his original work of art for the cover. We also thank Dr. Anthony Caldamone for his assistance throughout this project and his service on the Board of Directors of Operation Happenis, and Mrs. Whitney Wells Lewis for her tireless help formatting and copy editing the book.
2013 Pediatric Urology Evidence for Optimal Patient Management

Editors: Warren T. Snodgrass
ISBN: 978-1-4614-6909-4 (Print) 978-1-4614-6910-0 (Online)
Get the Book