"It makes you feel normal": I am in my mid thirties in the medical field. After a lifetime of anxiety, embarrassment, and difficulties with intercourse, I decided to have my severe lateral chordee repaired. My parents were never told about my curvature when I was an infant. But for as long as I can remember, my penis bent extensively to the right. In high school, I would hardly change in the locker room because of the fear of others noticing. Unfortunately, despite trying to hide it, some of my acquaintances did notice and referred to me as "Hook". I was very shy when it came to intercourse, and would always insist the lights were off during sex. I remember the first time I trusted my new girlfriend when she wanted to have sex with the lights on. Of course I was extremely nervous, and when we got undressed she looked at my penis, stopped, and asked what's wrong with it? We broke up later that week and she said it was because she couldn't get over my "crooked penis". With every new girlfriend, I anxiously waited for the question, "What's wrong with it? Why does it do that?" My answer was always the same. I don't know I said full of embarrassment and shame. That's just the way it's been since I was born. Fortunately, my wife has been very understanding. However, there were many positions we simply could not do at all. During intercourse, if my penis would slip out due to the bend, it would sometimes be impossible to achieve penetration again without having to entirely reposition. In addition to sex, urination was also a problem. Besides my urine stream spraying, I would have to twist my entire body, or bend and twist my penis towards the toilet, every single time I stood to urinate. To urinate with no hands, which was almost impossible, I had to stand 90 degrees to the toilet in order to make the stream into the toilet. I can't tell you how much time I've spent cleaning up urine from the toilet or floor because my aim with the curve is horrible. 
After 15-20 years of research, I finally decided I was going to have surgery. Surgery was not easy. There was more bruising and swelling than I ever imagined. I had to take time off work since I work on my feet, and make up reasons to explain to my coworkers why I could not pick up certain shifts. I was unable to have intercourse with my wife for many weeks after surgery while things were healing. Fortunately, even early after surgery, intercourse has already become much easier now that my penis is significantly straighter. If my penis falls out during intercourse, there is no repositioning, or even using hands to reinsert, which before happened 100% of the time. And for the 1st time in my life, I was able to void directly into the toilet with no hands! I know that sounds stupid but if you've never been able to do that your entire life, it makes you feel normal. Like one of the guys. If you are a parent reading this, please know that I would have much rather had this taken care of when I was young and it would not have even been a memory to me. Even if I could have had it done in my teen years I would have done it in a heartbeat. I am unable to explain the psychosocial aspects regarding having a severely curved penis, but I do know if I had surgery earlier, it would have saved me years of teasing, embarrassment, discomfort, and likely some of the anxiety I still experience to this day. In any case, I am glad repair was an option, and I hope sharing my story will help prevent some of these problems from developing in others.     – Jay W., July 2020
YouTube Channel surgeon comments: "Thank you Dr. Bush and Dr. Snodgrass! I have missed operating tremendously whilst on maternity leave and (when my baby boy permits it) I have been binge watching your videos. I can't wait to get back into the operating room so I can put some new techniques to good use." -T.G., August 2020
"Excellent. I always like to follow your work and surgical techniques, tried to do my hypospadias surgery according to your tips and techniques, it improved my outcomes especially proximal type. Many thanks. -Z.H., August 2020
"This is a work of art!! Brilliant job!" 352marshall, August 2020
"I needed help": Dear hypospadias moms, dads, and hypospadias heroes,
My son was born with hypospadias. When we were first diagnosed at birth, by an unqualified urologist, he made me believe that my son's case is not a big deal. He did not answer my concerns, questions and certainly made the surgery sound like a 'walk in the park'. His office gave me a printed page with the incisions he would perform on my son and send us home. My mommy's instinct kicked in and I did not trust that urologist. I felt insecure of his expertise. I sought a second opinion, where the second urologist said my son needs testosterone injections, on top of a surgery. Again, my gut told me that this is wrong. "My son does not need testosterone". Meanwhile, I was researching what moms have to say about their experiences with their sons born with hypospadias, as well as grown up men with this condition. I knew I don't want to trust health grades from health networks. I wanted to read what moms and dads have to say about the urologists who attempted to fix their sons' hypospadias. After intensive reading, I stumbled upon a blog from a mom whose son had hypospadias and she was talking about her journey. This is the first time when I heard about Dr. Snodgrass and Dr. Bush. As an inquisitive and worried mom, I started reading about both of them. I researched their work and watched their videos on youtube. I read some of their studies. These were the first urologists I found that actually did research work, wrote articles, wrote the textbook "Hypospadiology", traveled the world to teach other urologists about their performant techniques and patients from all over the world traveled to them for operations. I kept reading what parents have to say about Dr. Bush and Dr. Snodgrass. It took us about a year, until we made an appointment. My husband and I were scared to find out the real truth about our son's condition. Finally, on March 1st, 2018, we met with Dr. Snodgrass and we were given the most accurate diagnostic. Our son not only had hypospadias but he also had a curvature and torsion, which will take two operations to fix. He took his time to draw and thoroughly explain what and how he will fix out son's penis. I started crying. I knew in that moment that we are in the right place but I was devastated to find out what we have to go through. It did not sound cosmetic, as the other two urologists explained. I felt a void in my soul. I started blaming myself, thinking that maybe I have done something during my pregnancy that affected my son's private parts. There were no words anyone could tell me to make me feel better. I needed help from a professional, who will know how to listen to me.
I found a contact from PARC urology then (Hypospadias Center now), through the Happenis organization Dr. Bush had created. The lady who emailed me for emotional support had led me to Kyle-Hypospadias Center's psychologist. What is more important, Kyle was a patient of Hypospadias Center (PARC) and he himself was born with hypospadias! There was no doubt that he is what I needed to calm my nerves and worries. I set up a Skype session with him immediately. I called Hypospadias Center (PARC) and they scheduled our session. Kyle was kind, knew how to listen, was open to answer the most uncomfortable questions in a safe environment. It was the most reassuring conversation I had so far about my Hypospadias concerns. I started feeling hope for my son when Kyle told me that he is married and has a normal life. I finally found peace with myself. I was able to gain strength so I can be my son's rock when he needs me most. It was hard. I told my husband I would rather give birth without medication again, then seeing my son go through this ordeal. Albeit, in all honesty, the surgeries are harder on the parents than on the boys. The emotional rollercoaster of 'what will be', and 'what if', and 'how', and 'why' was killing me from inside. Thanks to Kyle and the amazing emotional support I have received from Happenis moms, I took one day at a time and I took charge of my emotional health. This message is intended to encourage other moms and dads with hypospadias sons, or adult hypospadias heroes, to seek professional psychological help. All of us need to be heard, especially when we are vulnerable. Keeping it all inside can destroy our emotional strength and mental stability. The more knowledge and wisdom we acquire about hypospadias, the more confidence we can instill in our sons… So so so grateful we found you.
"All the way from Russia": Dr. Snodgrass, my husband and I want to express our gratitude to You, for all the work You have done in the treatment of our son's hypospadias. We were fortunate to get the best doctor in the world! All the way from Russia to Dallas, the day of operation and postoperative period, were for us nothing, but a fairy tale! We could not imagine that everything would pass so easy and our child would recover so quickly and without experiencing any stress. In Russia, unfortunately, the operation and the postoperative period are rather difficult for both, parents and children. My husband and I admire You so much, so the attitude of the clinic and the staff… I wish you long life and success in everything!- Khachatryan's family 2017-04-08 | Source: Office Visit
"So thankful we flew out to Texas": I've been waiting for this day and it's finally here! I got to witness Z.K. urinate (finally!). He has ONE nice, strong stream!!!! No fistula!!! Not only is it completely functional, but his penis aesthetically looks amazing!!!! You really have no idea how thankful we are for you and Dr. Snodgrass. You are both truly brilliant at what you do and we are so thankful we flew out to Texas to see you. We are just so pleased with the outcome- 2018-02-09 
"I had lost hope": Dear Dr. Snodgrass and Dr. Bush, I just wanted to say thank you SO MUCH for fixing my hypospadias. It had been bothering me for 15 years and I had lost hope until I found my way to you. May God bless both of you. Thanks again.- Andy S. 2015-08-11 | Source: Letter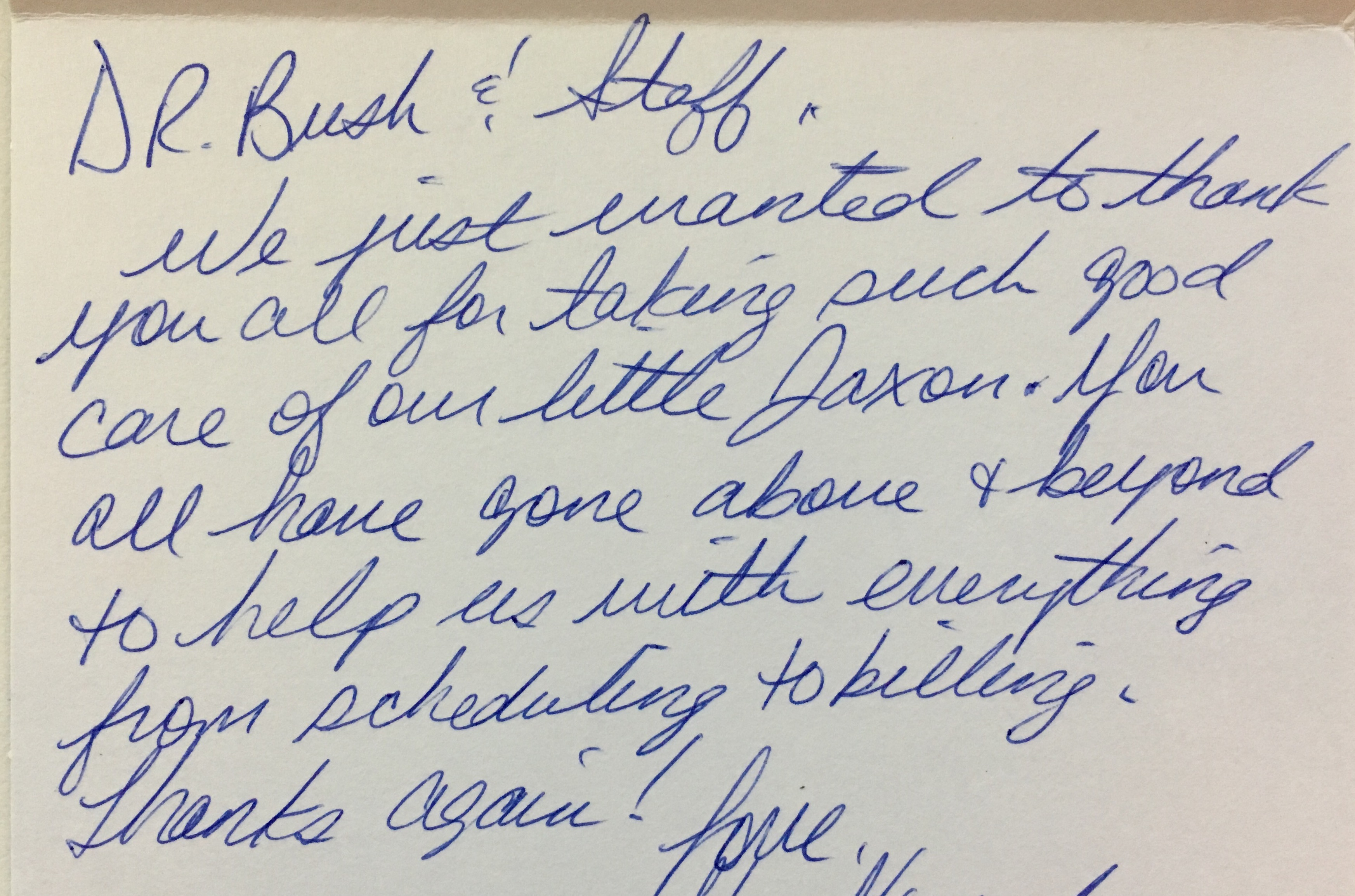 "I highly recommend them": Dr. Snodgrass and Dr. Bush are world class urologists. A family member and I have the same birth defect and while these docs are world experts in pediatric urology I am going to self proclaim them world experts in adult urology too. They both have a great bedside manner, the staff is top notch, and everyone they choose to do business with is great. Even schedulers and people reminding me of appointments give me the same confident feeling. I couldn't be happier and I highly recommend them.- John F 2015-12-07 | Source: Google
"Impeccable technique": Good morning Nicol, you have made significant modifications/improvements to the staged repair. I had the opportunity to watch the entire movie. It is pretty awesome. Impeccable technique. These educational (and non edited) videos will definitely help us to improve our hypospadias surgery outcomes. Thanks so much for doing this!- 2018-05-31
"Top notch!": We saw Dr. Snodgrass for our son's second hypospadias surgery. We feel blessed that we relocated and came to his office because he is top notch!- Emily C. 2016-02-05 | Source: Google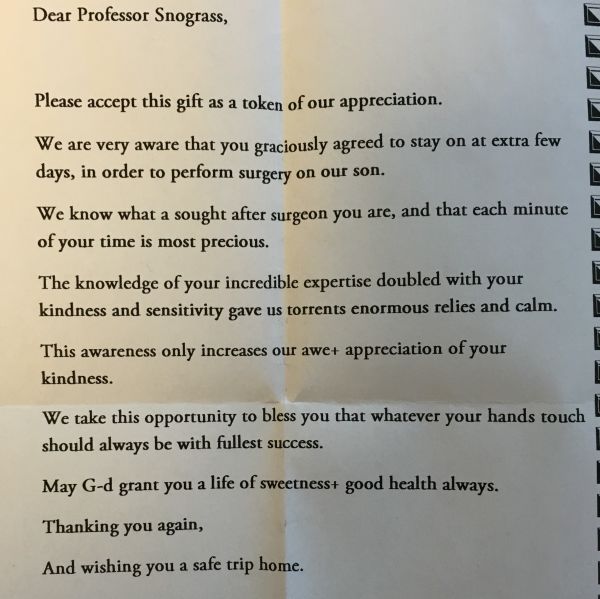 "We know what a sought after surgeon you are": Dear Professor Snodgrass, Please accept this gift as a token of our appreciation. We are very aware that you graciously agreed to stay on an extra few days, in order to perform surgery on our son. We know what a sought after surgeon you are and that each minute of your time is most precious. The knowledge of your incredible expertise doubled with your kindness and sensitivity gave us torrents enormous relief and calm. This awareness only increases our awe + appreciation of your kindness. We take this opportunity to bless you that whatever your hands touch should always be with fullest success. May G_d grant you a life of sweetness + good health always. Thanking you again and wishing you a safe trip home.- Mr. and Mrs. Hammer 2015-11-16 | Source: Letter
"Dr Bush was great with my child.": She explained everything thoroughly and made us feel very comfortable. The office was nice and the wall chalkboard kept my children entertained.- Jennifer S. 2015-11-16 | Source: Google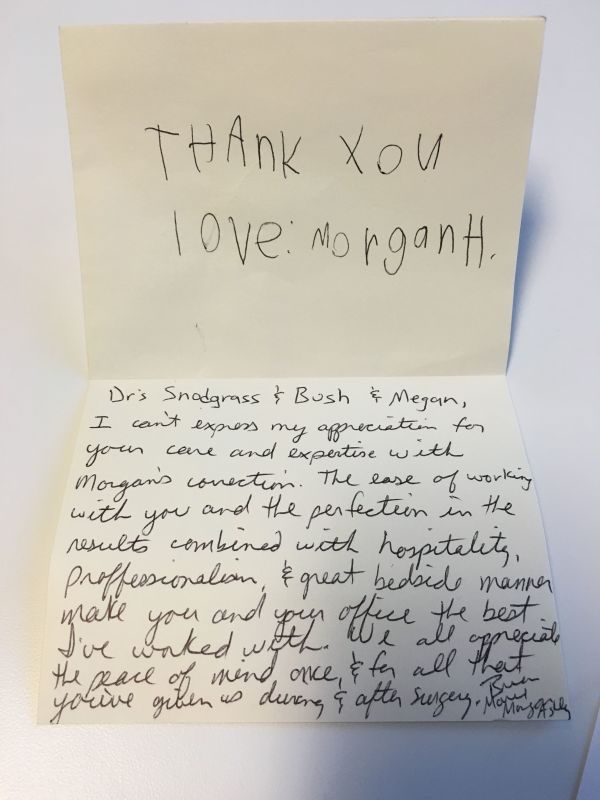 "The skills of these doctors": Dr. Snodgrass has performed 2 surgeries on our son and we could not be happier with the results. Our experience with PARC Urology and Forrest Park Medical Center have been flawless. Everyone we have met have spoken very highly of the skills of these doctors and we could not be more confident in the care our son has received.- Bobby Floyd 2015-08-19 | Source: Google
"Both experts in hypospadias:": Dr. Snodgrass and Dr. Bush are both experts in hypospadias. You can't find a pediatric urologist that knows more or can do better than them! I am so pleased and thankful for them!- Riley Kost 2015-03-04 | Source: Google 
"The best I've worked with": Drs Snodgrass and Bush and Meg, I can't express my appreciation for your care and expertise with Morgan's correction. The ease of working with you and the perfection in the results combined with hospitality, professionalism, & great bedside manner make you and your office the best I've worked with. We all appreciate the peace of mind once and for all that you've given us during & after surgery.- Morgan H. 2016-03-01 | Source: Letter
"Thanks for coming to Egypt" and sharing your experience with us… We have learned a lot of tips and trick. Thanks- I enjoyed HYPOALEX 4 and it was very helpful, also I keep watching the videos uploaded on your YouTube channel to refine my repair of hypospadias…Thanks- 2017-12-09
– SHARE Facebook Twitter Contact Us Today