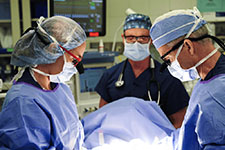 DIFFICULT PATIENT REFERRALS
To refer a patient with a challenging problem, please call us at 214-618-4405, or send an email to Info@hypospadias.com.
PRIVATE WEBINARS
We can arrange an internet connection to allow surgeons to interact with us during the operation of a patient they refer to Hypospadias Specialty Center for care. The unedited video will then be sent to the referring surgeon after the procedure for future review. To refer a patient and schedule a private webinar please email us at Info@hypospadias.com. or reach out via the Contact page.
VISITS TO PARC UROLOGY
We welcome visits by surgeons to observe our operations. A minimum of 12 weeks notice is recommended so that we can schedule the specific types of cases that interest the visitor. Visits can range from 1 day to several weeks depending on the needs of the surgeon. Please contact us at Info@hypospadias.com. for more information and to arrange a visit.
Surgical Videos
Visit our YouTube channel. Unedited videos and short tutorials are added on a regular basis.
AUA HYPOSPADIAS COURSE
We have discussed the latest evidence-based research and technical advancements in hypospadias repair at the American Urological Association annual meeting each year for many years. Please contact us for dates and times.
PERSONAL INSTRUCTION
Our specialists are available to travel to your institution to offer private instruction upon request by surgeons who wish to have hands-on experience operating on their own patients. The host surgeon selects the cases and we will first demonstrate our technique and then involve the host as we coach. For more information please email us at Info@hypospadias.com.